GREASE TRAP PUMPING IN INDIANAPOLIS
Indianapolis Grease Trap Pumping
Grease Trap Pumping Services in Indianapolis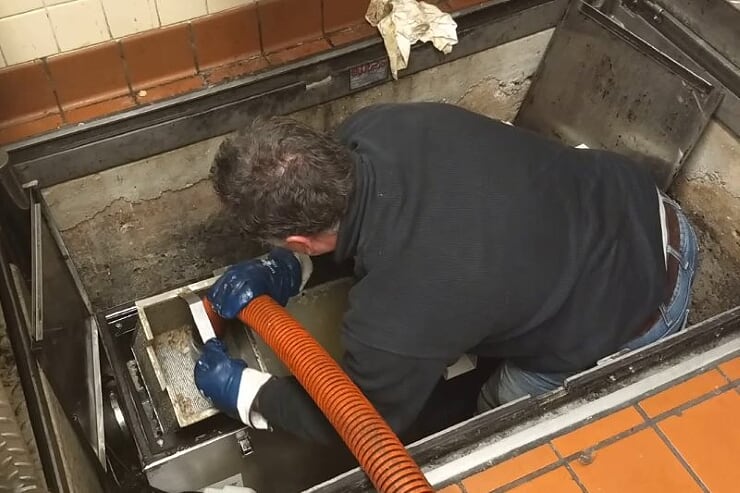 Most Indianapolis commercial kitchens are fitted with much larger, heavy-duty plumbing hardware to assure the system can process more than it is practically required to, on any average day. The amount of energy required to operate such a system is significantly less because of the lower drag and higher efficiency. As experts in our field, Indianapolis Grease Trap Pumping & Cleaning Services are second to none when it comes to partnering with you for all your grease trap needs. You will need our expertise in dealing with the additional cleanup this more advanced plumbing system requires.
Due to the larger diameter and heavier gauge of the plumbing systems employed by large commercial kitchens, more powerful and heavier duty pumping equipment and specialized equipment is needed to service the facilities. This is a requirement for speedy and efficient pumping and cleaning to save you time and money in the process, so that we can offer the lowest price possible to fit your budget. Indianapolis Grease Trap Cleaning Services are equipped with a whole array of specialized vacuum systems tailored to suit any plumbing configuration or complexity. Our fleet of pumps and waste collection trucks are on standby 24 hours per day for scheduled services as well as after-hours emergencies you may encounter. When your grease collection system is running smoothly, you can rest assured that your entire operation, which relies upon that, will also continue to run worry-free.
The importance of regular scheduled cleaning and maintenance
It's only a matter of time before your grease trap will require pumping and cleaning. The question is- will you wait until it's a screaming after-hours emergency, or will you have it serviced at your leisure?
Indianapolis city health and safety regulations stipulate that every commercial kitchen and food service establishments implement a timely schedule of maintenance and cleaning for their grease traps, in order to keep them open and free-flowing. In some cases, anti-sludge compounds can do a fair job of keeping them clean, but certain variables can change this, such as:
● The density and thickness of the waste oil and grease
● The volume of the grease trap tank and the capacity of the plumbing
● The Quantity of food you produce on a daily basis
● The type of food you are preparing- is it fried pork, or just boiled veggies?
What is the cost of pumping a grease trap?
To fully answer this question, we would need to sit down with you for an in-house consultation, so we can cover all the factors involved in creating an accurate quotation. But we can cover some major variables here.
The location of the kitchen where the grease trap is installed in proximity to where the nearest possible location of the vacuum truck can park is one issue. If the truck has to park far away from the grease trap that needs pumping, it will require a more complex and time-consuming setup.
How long has it been since your grease trap was last serviced? If a great while has passed, it's possible there could be some major, thick and sticky deposits in the tank that could take some work to remove, and that could add to the cost.
The all important pumping schedule
For the grease trap, the problem is, if it's out of sight, it's out of mind. That is until a sudden, unexpected overflow or backup occurs. Then it becomes an emergency which was totally avoidable with the proper care and cleaning. And when these types of events occur, it's usually at the most inopportune moments, usually after hours or during peak business hours. This kind of emergency can shut you down for an entire weekend and also garner you a stiff fine from the health and safety department of Indianapolis.
Why risk spending wads of hard-earned money on a needless emergency, when you can simply keep everything in line with an easy periodic scheduled service plan that fits your budget?
Just call us now, so we can schedule an in-house consultation and fix you up with a scheduled service plan that fits your needs and your budget. We can be reached anytime at 317-548-1925.
GET A GUARANTEED CALL BACK
FROM THE OWNER
Affordable & Reputable Grease Trap Services